Mary McLeod Bethune was born on July 10, 1875 near Maysville, South Carolina. She was the last of seventeen children and the daughter of former slaves. After the Civil War her parents continued to work for their former owners until they saved up enough money to buy the land they were formerly slaves on. By age nine Bethune was capable of picking over 250 pounds of cotton per day.
Bethune attended boarding school and missionary school with hopes of becoming an African missionary, but with no churches willing to sponsor a Black woman doing mission work in Africa, she became an educator instead and began teaching in South Carolina where she met her soon-to-be husband and they relocated to Florida.
In 1904 after her marriage ended Bethune opened a boarding school, the Daytona Beach Literary and Industrial School for Training Negro Girls. The school eventually became a college, and merged with the all-male Cookman Institute to form Bethune-Cookman College in 1929, granting their first degrees in1943. Bethunes college helped serve as an educational model for many Black colleges today.
Bethune had a passion for racial and gender equality, which grew even deeper after women gained the right to vote in 1920 In 1924, she was elected president of the National Association of Colored Women's Club. In 1935, she became the founding president of the National Coucnil of Negro Women (NCNW). Bethune would even cross paths with a young Dorothy Heights, another soon to be giant in the civil rights movement, and inspired her to join the NCNW and she would soon after (1957) become its fourth president and continue the tradition of strong female leadership.
Bethune was also a close friend of Eleanor Roosevelt and helped serve as a catalyst for the transition of black people from the Republican Party (the party of Lincoln as it was known then) to the Democratic Party during the Great Depression. In 1936 Bethune became the highest ranking Black woman in goverment when President Franklin Roosevelt (FDR) named her Director of Negro Affairs of the National Youth Administration, a position she held for eight years. She was also the leader of FDR's unofficial 'black cabinet'. In 1940 she became the VP for the National Association for the Advancement of Colored Persons (NAACP) , a position she held for the rest of her life. In 1945, she was the only woman of color at the founding conference of the United Nations, invited by President Truman.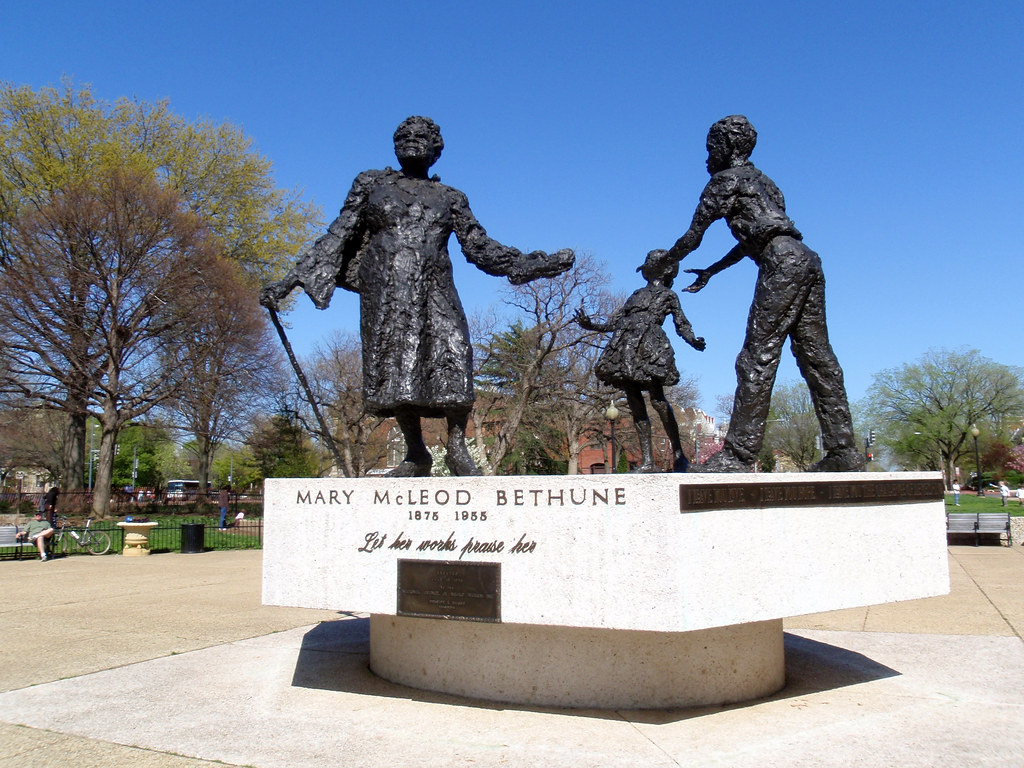 Bethune was also a gifted business woman, co-founding the Central Life Insurance Company, and co-owning a Florida resort. Bethune's long and illustrious career served as a model for social activists both domestically and across the world. She gained influence and favor with world leaders, and was a primary catalyst for the civil rights movement. A statue was erected in her honor in Washington DC, 1974.
Life: 1875-1955
---
Sources
https://www.womenshistory.org/education-resources/biographies/mary-mcleod-bethune
https://www.womenshistory.org/education-resources/biographies/dorothy-height
Photo Credits
"National Council of Negro Women Mary McLeod Bethune: 1930 ca" by Washington Area Spark is licensed under CC BY-NC 2.0
"Mary McLeod Bethune" by Daquella manera is licensed under CC BY 2.0