Gordon Parks was a pioneer in photography, film, photojournalism, poetry, musical composition, and more. Born in Fort Scott, Kansas in 1912, Parks had a tumultuous life. He was a product of segregated schools, where racism and racially motivated attacks were the norm. His mother died when he was 14, and he was sent to live with relatives,eventually making it on his own by working odd jobs in colored music clubs and the like. It was on these jobs that he saw a magazine layout featuring migrant works, and was inspired to buy a camera from a pawn shop. He taught himself to use it and years later won the Julius Rosenwald Fellowship in 1942, despite having no professional training. This fellowship led to multiple photography positions with government agencies.
Soon after, Parks became the first freelance African American photographer for Life and Vogue magazines. In 1948, after creating a photographic essay on a Harlem gang leader that gained much acclaim, Parks was hired as a staff photographer for LIFE magazine, a position that he would hold for 20 years.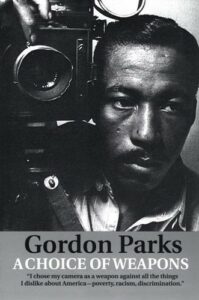 In 1969, Parks became the first African American to direct a major Hollywood movie, The Learning Tree, based on a screenplay he wrote himself. Park's next film was the popular movie, Shaft, one of the biggest box office hits of its time.
Parks was passionate about shining a light on racism, segregation, poverty, and knew a camera was a powerful tool to accomplish that. He's quoted as saying, "I saw that the camera could be a weapon against poverty, against racism, against all sorts of social wrongs. I knew at that point I had to have a camera."
Parks passed away due to cancer in 2006, but his work and legacy inspired and paved the way for Black and minority journalists across the world. He was honored with more than 50 honorary doctorates, and various awards including the National Medal of Arts (1988). His work can be viewed in the permanent collections of major museums across the country.
Learn more: https://www.gordonparksfoundation.org/
---
Photo Credits
"Public Domain: Gordon Parks at 1963 March on Washington by USIA Photographer (NARA)" by pingnews.com is marked with CC PDM 1.0
"Gordon Parks, 1912 – 2006" by Chuckumentary is licensed under CC BY-NC-SA 2.0